The answer is NO. If you had asked this question a few years back, the response would have been Yes. Whether you're a hobbyist or a professional artist, it's one of the most common questions – do you need a computer for a drawing tablet? Surprisingly, whenever you don't have access to your gadgets, your hands crave drawing. It's not practical at all to carry your laptop and drawing tablet everywhere with you. Then what is the solution?
If you want to work with a traditional graphics tablet, undoubtedly, you have to connect it to a computer to make it work. Drawing/graphics tablets are available in two types. The first one doesn't have a display, and there is no doubt about it; it needs a computer screen to make them work. The second one has a display, but they also need a computer for functioning, which is confusing for some people. And this question is probably arose due to this reason, am I right?
With the technological advancement, several regular and graphics tablets in the market don't require a computer or laptop. You can work on them directly with a stylus anywhere you want, which makes them perfect for on-the-go use.
By regular tablets I mean, that you use in your everyday life, such as Android and iPad. However, there are only a handful of viable choices ideal for artists. Here are some examples of regular tablets for drawing; you can also explore our site for more helpful articles related to drawing tablets.
Simbans Picasso – The cheapest tablet that supports a stylus and allows drawing on the go.
Samsung Galaxy Tab S7 Plus – It's the best Android tablet ideal for hobbyists and professional digital artists.
Apple iPad Pro – The beast tablet with utmost powerful performance and features. It's perfect for professional artistry to intricate 3D modeling.
When we talk about drawing tablets, some options offer standalone usability, so you don't have to stick to your desk.
Huion Kamvas Studio 22 – It's a large tablet for artists that offers full HD resolution with robust hardware configurations.
Wacom Mobile Studio Pro 16 – It could be a solid choice if you need a portable option. It offers even more robust performance along with an ultra-sharp 4K display to ensure a liquid-like user experience.
Working principle
Now you know, you can use a drawing tablet without a computer. But do you know the difference between the working principle of a traditional graphics tablet and the latest regular tablets?
Drawing/graphics tablet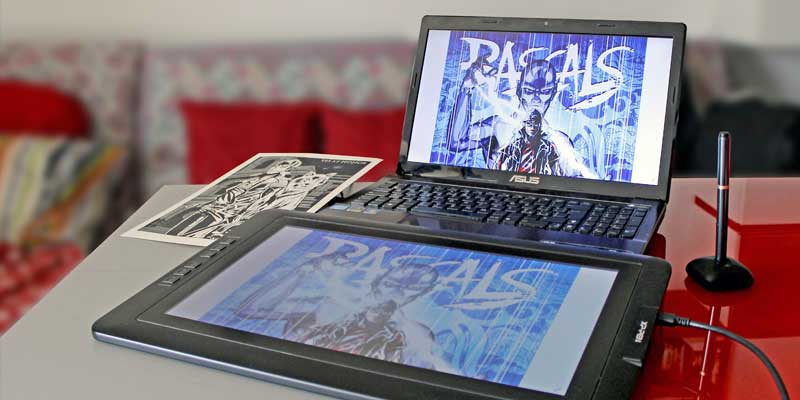 These tablets are usually needed to connect to a computer or laptop for functioning, as you know. However, some are exceptions that we have discussed earlier.
We can connect these tablets with USB or USB+HDMI (depends on tablet type), and some of them offer wireless features as well. After establishing the connection, the sensor board available on the pad generates an electromagnetic signal, which the stylus pen's circuit receives when you interact with the pad. The pen regenerates another electromagnetic signal to communicate back to the tablet. This way, your hand movement's data get transferred to the computer.
Regular tablet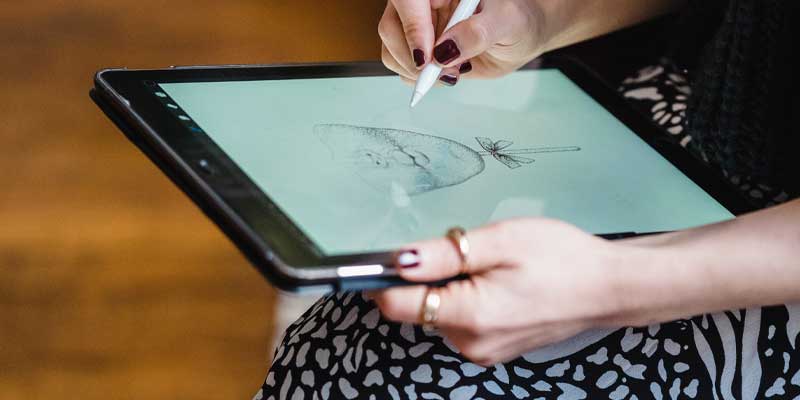 In regular tablets, this process is a bit different. The screen doesn't emit any electromagnetic signals, but the stylus signals the tablet. This technology doesn't require any physical touch to display and can still sense the accurate positing of the pen. Latest high-end tablets like iPad Pro and Samsung Galaxy Tab S7+ can deliver a natural drawing tablet-like experience.
Conclusion
I hope you got your answer of whether drawing/graphics tablet works without a computer or not? A drawing tablet is a serious investment. If we talk about standalone devices, they are even expensive, so choose wisely. Thanks for giving your precious time, have a great day! 🙂
As an Amazon Associate I earn from qualifying purchases. Learn more.