Graphic tablets connect to your laptop, desktop, or, in some instances, Android, Chrome OS, and Linux to add an additional, more natural feeling input method. The package will have a pen/stylus and a tablet that uses magnetic fields to determine the pen's coordinates. When you use a graphic tablet for photo editing, you notice that your efficiency rises dramatically after a short period of getting used to the pen.
A graphic tablet enables you to use more nuanced, more exact movements. Pressure-sensitive pens allow precise control when applying an editing tool. It is like its physical counterpart, the pen, and paper; the harder you push, the deeper the line you draw.
I spend many hours retouching or editing photos. One of the most frustrating aspects of photo editing is the lack of precision provided by a mouse or touchpad. I find it difficult to maintain the level of control required for precisely selecting small objects or drawing fine lines.
Remembering which keyboard command will make the mouse responsive to my input becomes keyboard shortcut overload.
Originally, I thought we mostly used graphic tablets for drawing rather than photo editing. Recently, I put several graphic tablets through their paces in my photography workflow. I'm going to investigate which graphic tablets are the best for photo editing.
It only took a short time to get used to using the pen with the tablet. After several minutes of fumbling around, I worked out the process, and it sold me!
I am not interested in returning to the mouse and keyboard process after having experienced the decrease in difficulty, the capability produced by moving a pen, the exact selections I could produce, and the fluidity of the brush tool. This is an extremely gratifying experience.
On graphic tablets, the pen can recognize thousands of pressure levels, and many of them can also detect pen angles for added control. Prior to the adoption of a graphic tablet and stylus, I had to carry out multiple trips to Photoshop's menus or recall arcane keyboard shortcuts to perform even the most basic tasks.
For illustration, in Photoshop, you might use the burn tool to add some darkness to a particular region. The burn tool works with a percentage, and the initial thing I would do is set the percentage to the value of darkness to apply, then burn a specific range of the photograph. Concentrating on a different area of the photograph may lead to a different amount of darkening, in which instance I need to adjust the percentage once again and use the touchpad to apply the effect.
With a graphic tablet, I can change the flow on the fly by adjusting the pressure I apply to the pen. Now that I can apply widely different levels of pressure on the fly, the airbrush tool is more helpful than ever. The usability of practically all photo editing tools exploded.
I knew that getting a graphic tablet would help me work faster in Photoshop. I was amused at how much I enjoyed working with the pen in Lightroom. Lightroom includes several finicky sliders that are complicated to handle effectively with standard input methods.
Adopting the pen from the tablet, you can experience a finer degree of control when modifying Lightroom effects. Lightroom recently upgraded the masking, cloning, healing, and red-eye reduction tools. The new enhancements provide for a greater level of control.
A graphic tablet allowed me to take complete advantage of those improvements. Lightroom's automated selection tools are impressive, but there are a lot of times that I desire something masked that Lightroom cannot locate on its own. The graphics tablet allows me to make a pinpoint selection with so much ease, employing even the smallest brush sizes.
The graphic tablets I looked at for this review are compatible with a range of applications and operating systems. The tablets work with Windows and macOS; some of them also work with Android and Chrome OS. I put the tablets to the test in Adobe Photoshop, Adobe Lightroom, Darktable, Gimp, Affinity Photo, and Luminar.
Using the pen controls boosted my productivity in all these applications. Many tasks that seemed intuitive with a touchpad and keyboard became more instinctual. Tools performed like their real-world counterparts and made more sense.
I've learned that most graphic editing software can handle pen input, so using a graphic tablet isn't reduced to the "big name" software. I have also used graphics tablets to replace my mouse and touchpad, complementing the use of all the software on the system.
Most graphic tablets work on the same foundations. The pen is a passive input device, which means it operates without the use of power. The tablet surface recognizes the position of the pen through magnetic sensors and conveys your wishes to the software on your display.
Best Drawing Tablets for Photo Editing – Guide
Essential Features:
Size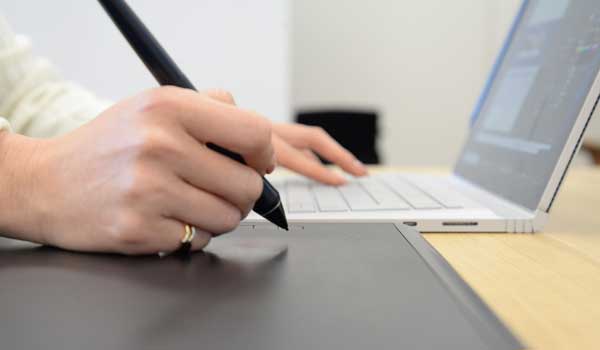 The size of a tablet is a significant consideration. Tablets with a large enough active area to cover your photo editing workspace should be preferred. If you're unsure, a 10-to-12-inch active area is enough for many desktops or laptops connected to larger monitors.
Laptops with displays up to 16 inches can use six inches easily. A large tablet may get in the way if you're on the go. Laptop screens are smaller than desktop displays; you could choose a smaller active area.
The Wacom Intuos Pro is the best for size; it comes in small, medium, and large sizes to accommodate nearly any type of usage. S: 6.3 x 3.9 in; M: 8.7 x 5.8 in; L: 12.1 x 8.4 in (L).
Pen
The pen/stylus is the primary thing you will interact with on the graphic tablet. You'll want a pen that's comfortable to hold. Thinner pens can lead to hand fatigue because you must keep a tighter grip. The pen should be a comfortable weight and balance. If you're using a pen that is too light, you may have to press harder to keep the lines smooth. A pen with a comfortable weight minimizes strain and frustration while making smooth lines and is far more balanced and ergonomic.
Once more, the Wacom Intuos Pro is triumphant. The Wacom Pro Pen 2 comes standard with any of the graphic tablet sizes. When you use it in partnership with the tablet, this pen can vary between 8,192 separate pressure levels, can tilt up to sixty degrees, and weighs a comfortable 15g. In contrast, an ordinary BIC pen averages 5.8g.
Efficiency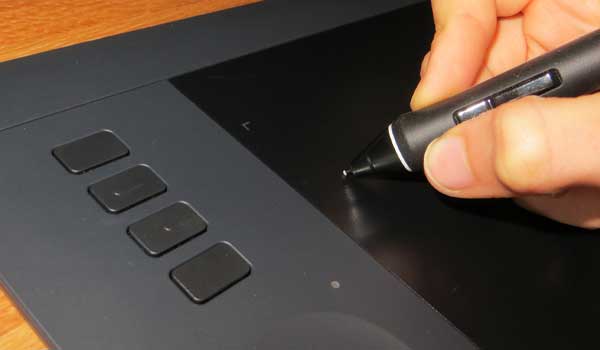 Graphics tablets save time by getting rid of the need for constant trips to your applications' menu or memorization of arcane keyboard shortcuts. Some tablets also come with programmable shortcuts and alternative buttons that can help you be more productive. If you regularly use a long keyboard shortcut, you can set up one button to submit it instead.
The HUION Inspiroy H1161 is surely the champion in terms of efficiency. The HUION includes ten programmable buttons. We can set up each one to run a different script or initiate a keyboard command.
Value
A substantial increase in productivity and efficiency can absolutely boost your income potential, but you have to make money before you can use it. This has happened to me! You might think about incorporating a tablet into your workflow and are hesitant to make an enormous investment.
One by Wacom is an outstanding value for a graphic tablet for photo editing; the value in this tablet is that it uses the same tablet hardware as Intuos Pro. You get the same tablet hardware as a more expensive tablet and will not have to compromise on speed or precision. One by Wacom does lack the shortcut buttons, and the stylus is a little thinner and lighter but is still incredibly comfortable to use. One by Wacom has less pressure sensitivity, but the 2048 levels of sensitivity should honestly be acceptable for casual to advanced users.
BEST DRAWING TABLETS FOR PHOTO EDITING AT A GLANCE
Pen Pad
12.1 x 8.4-inch
8192 Levels
USB/USB
Mac, and Windows
Battery-free
Pen Pad
11 x 6.88-inch
8192 Levels
USB
Mac, Windows, and Chrome, Android
Battery-free
Pen Pad
6 x 3.7-inch
2048 Levels
USB
Mac, Chromebook and Windows
Battery-free
Pen Pad
6 x 4-inch
8192 Levels
USB
Mac, Windows, and Chrome
Battery-free
Pen Pad
6.5 x 4-inch,
8192 Levels
USB
Mac, Windows, and Android
Battery-free
Best Graphics Tablets for Image Editing- Recommendations
This section contains detailed reviews of five drawing tablets. From their functionality to pros to cons, we will dive all in.

Overall Best Graphics Tablet for Editing Professionals
Type: Pen Pad
Weight: 45.76 oz
Display/Active Area: 12.1 x 8.4-inch
Pressure Sensitivity: 8192 levels
Connectivity: Bluetooth/USB
Supported OS: Mac, and Windows
Stylus Type: Battery-free
Wacom has been in the graphics tablet industry since 1984. Many companies license technology from Wacom for their own products because their experience in physical input has allowed them to develop superior products.
This tablet is slim and made of premium materials like anodized aluminum, glass, and fiber composite resin, which feels premium and is durable. The strength of this tablet makes it a perfect tablet for a mobile lifestyle.
You will be able to pack it in your bag with photography equipment and your laptop and not have to worry about being delicate with it. Multi-touch gestures and six configurable buttons are productivity boosters.
✓ PROS
It is available in a few sizes
8192 pressure levels and 60-degree tilt
Super-fast pen tracking means the cursor is always in line with the pen
Wacom has a history of quality products
Durable materials
Most ergonomic
The included pen is a comfortable length and width
2-year warranty
✗ CONS
The Wacom Intuos Pro is the most expensive on the list
The pen nibs (tips) wear out quickly. It includes ten.
Best Large Drawing Tablet in Budget
Type: Pen Pad
Weight: 21.12 Oz
Display/Active Area: 11 x 6.88
Pressure Sensitivity: 8192 levels
Connectivity: USB
Supported OS: Mac, Windows, and Chrome, Android
Stylus Type: Battery-free
The HUION Inspiroy H1161 tablet is a great intermediate tablet. The tablet has a large active region for work, and the pen is ergonomically designed and tapered. I
t will enhance your efficiency with fast-tracking and 10 programmable buttons. This graphic tablet was a strong contender for first place. The warranty period, according to reviews, is questionable, and the company producing it does not have the same renown as Wacom. The specifications are captivating and incredibly close to the Wacom Intuos Pro.
It is compatible with Android if you intend to draw or edit photos on your phone or tablet. If the price of the Wacom tablet is off-putting, the Inspiroy H1161 is a distinguished alternative.
✓ PROS
Large active area
8192 pressure levels and 60-degree tilt
The included pen is comfortable
Android compatible for those interested
10 customizable keys
A great value considering the features
✗ CONS
The company's reputation has mixed reviews
Less durable materials (mostly plastic)

Best Photo Editing Tablet for Beginners
Type: Pen Pad
Weight: 15.52 Oz
Display/Active Area: 6x 3.7-inch
Pressure Sensitivity: 2048 levels
Connectivity: USB
Supported OS: Mac, Windows, and Chrome
Stylus Type: Battery-free
Wacom's One is a simplified form of the Intuos series. Although it loses some of the shortcut buttons and other finer features of the Intuos series, the tablet hardware is the same, making it fast and precise. The pen is quite responsive. Despite it having less pressure sensitivity than the Intuos (2048 levels), it will still produce outstanding results.
If the Intuos Pro appears to be a little more than you require, this is an attractive substitute. One by Wacom uses the same tablet hardware as the Intuos Pro. You will not compromise on accuracy or speed. The pen that comes with One by Wacom is slightly lighter. Still, it's comfortable. One by Wacom does not have any shortcut buttons.
✓ PROS
Top hardware at a value price
Super-fast pen tracking means the cursor is always in line with the pen
Choice of colors
Works with Chrome OS and Linux and macOS and Windows
Portable and lightweight
✗ CONS
No Bluetooth
No shortcut buttons
The stylus is thin and light

Best Value for Money Drawing Tablet
Type: Pen Pad
Weight: 13.1 Oz
Display/Active Area: 6 x 4-inch
Pressure Sensitivity: 8192 levels
Connectivity: USB
Supported OS: Mac, Windows, and Chromebook
Stylus Type: Battery-free
XP-PEN The StarG640 is a great lightweight value tablet. The tablet is thin, 0.1-inch-roughly the thickness of 25 sheets of standard copy paper stacked up. The thinness of the tablet means that your wrist will not have to overcome any hurdles while getting to the surface of the tablet. The included pen is a satisfying weight, and the tablet tracks the pen extremely quickly, supporting incredibly precise results with no lag.
XP-PEN Star G640 is a fine entry-level choice. The tablet is in an economical price range and includes standard hardware that will satisfy most buyers' conditions. Star G640 may meet all your needs for a long time, and at this price, you can't really go wrong.
✓ PROS
Value priced
Ultra-thin
8192 pressure levels
Comfortable pen
✗ CONS
Small usable area
Little customer support
Thin plastic will not be durable

Cheapest Graphics Tablet for Photo Editing
Type: Pen Pad
Weight: 8.8 Oz
Display/Active Area: 6.5 x 4-inch,
Pressure Sensitivity: 8192 levels
Connectivity: USB
Supported OS: Mac, Windows, and Chrome
Stylus Type: Battery-free
The GAOMON S620 is another distinguished entry-level device if you want to explore a graphic tablet before committing to a more costly alternative.
The GAOMON S620 is a bit on the small side, but it is suitable for a variety of tasks, especially for laptop use. With its small size, it is natural to drop into a travel bag for on-the-go editing. Since this graphic tablet lacks tilt recognition, it is important to keep the pen more upright than some alternative tablets.
✓ PROS
Value pricing
Android compatible for those interested
8192 pressure levels
Great for testing the waters before fully committing to a graphics tablet
✗ CONS
No tilt recognition
Lightweight pen
Small usable area
Rough surface (wear down pen tips quickly)
Top-Rated Graphics Tablets for Photos Professionals
This collection of graphic tablets is among the strongest for photograph editing. They range from small to large and have varying levels of sensitivity and qualities. You should decide which of the benefits will be most suitable in your photography studio and for your system of editing.
If you are generally packed up and off to another destination, a smaller, more durable tablet will be a great choice. If you, like me, edit your photos after a shoot at home on a couple of large monitors, a larger tablet will provide the best experience.
All the tablets I have listed have relatively comfortable pens, respond to the pen's movements precisely and swiftly, and have a viable number of pressure sensitivity levels. I listed the largest pros and cons of each graphic tablet for photo editing. Use those lists to inform your pick, and I know you will enjoy the benefits of editing your photographs with a pen and tablet.
As an Amazon Associate I earn from qualifying purchases. Learn more.