There are a lot of controversies behind clearing cache and cookies. A lot of us clear the app cache to free up storage. Others clear to avoid sluggish applications and devices. Either way, a lot of questions pop up along the way. Does the practice have long-term effects? Can I get in trouble by deleting the application cache?
Some apps like games and browsers store a lot of cached data on your device. Some of them develop problems running when they offload too much data on your device. Your only option is to delete the data, but before you do that, let us look at the app cache, its importance, when, and why you may want to delete it.
What is a Cache?
A Cache is the product of Caching. Caching allows applications on your tablet to save files on your device temporarily. The files help maintain a smooth user experience. Youtube, Google Chrome&News, Spotify, and games are just a few apps that store temporary files as cached data. What files are you talking about?
It can be anything from your search history to video snippets and thumbnails. Have you ever noticed how some applications do not always need user input? Talk of searching something on Google Chrome. You can see your recent searches suggested when typing. Google Chrome saves this information as cached files on your device.
While enhancing user experience by continuously storing cached files on your device, these applications will ultimately slow down your tablet. If your tablet does not have a lot of space available, you are more likely to suffer.
Differences between clearing data and cache
Although we usually talk of clearing app cache and data as one, the two are different. When using Youtube, the application stores your search and watch history. These are stored as cached files, and you can delete them if you don't need the stored information.
On the other hand, Youtube also stores your vital information as application data. Think of your login information or database. Deleting application data resets the application to factory settings. The same action will delete cached data and updates. It is more like a fresh installation.
Why clear app cache?
We clear the application cache to free up device storage and improve system performance. When your application files are corrupted, clearing app data is a reasonable action.
Note: Clearing the application cache is a temporary fix. Applications will start storing information as soon as you start using them. Do not make it a daily routine! Clear when it is your last resort.
How to Clear cache and data on Samsung Galaxy Tablet
Open your tablet's Settings icon and go to Apps.
From the list, choose the application you want to clear cache from and tap Storage.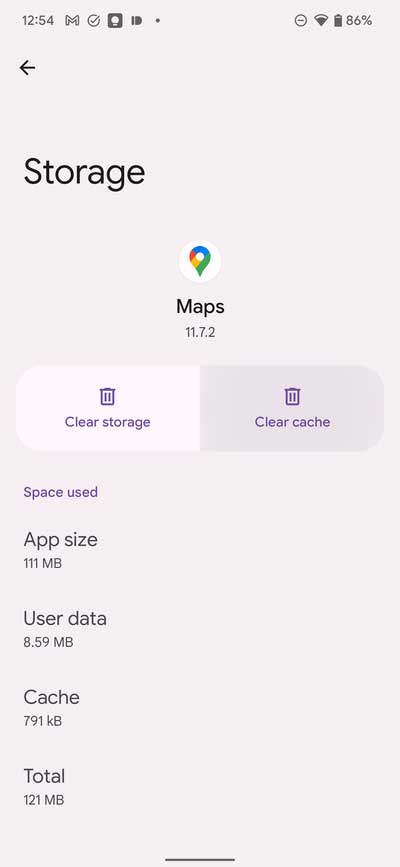 If you want to delete the application cache, tap Clear Cache.
To clear application data, tap Clear Storage.
Let us now look at what cookies are and how you can clear them.
What are Internet Cookies
Web browsers store small text files on your tablet with information regarding the things you lookup online. Cookies reduce redundancies and ensure a smooth user experience by minimizing load times. Web servers can personalize pages to fit your preferences, thanks to the stored cookies.
So, What's with the name?
Several explanations surround the origin of the name 'Cookies.' Some prefer to think of it as the 'magic cookies' from the UNIX operating system. In contrast, others trace it back to the era of Hansel and Grettle when they used to leave cookie crumbs as trackers.
Most agree that web cookies are safe. Besides, they are only text files that cannot run any command. However, some websites can use cookies to track your activities on the web. It is no wonder you will hear such websites called out on TV. Nonetheless, one server can not access another server's cookies. It is safe to say web cookies are harmless.
The answer to this question heavily relies on how you use web browsers. If you visit pages with extensive user personalization, clearing or disabling cookies will remove all saved information.
Since cookies come from web browsers, let us look at how you can clear cookies on some common browsers like Google Chrome and Firefox.
How to Clear Cookies on Chrome
The following steps will guide you on any android device.
Open your Google Chrome App and hit the three dots on the top right corner.
Tap Settings.
Go to Privacy and Security.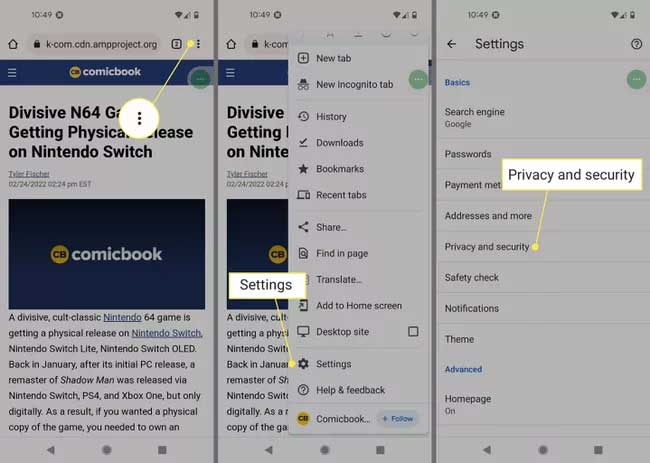 Go to Clear browsing data.
Check the Cookies and site data box and hit Clear Data.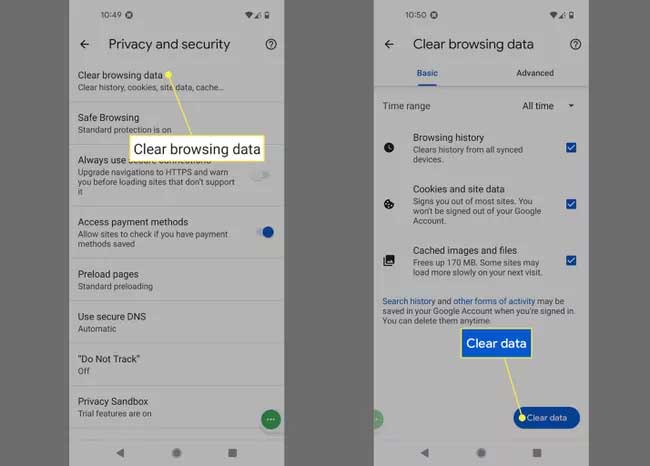 Bonus tip; You can specify a period when clearing cookies. Tap All time and select from the list. Among the options is Last hour, Last 24 hours, you get the gist.
How to Clear Cookies on Samsung Internet
If you have a Samsung phone or tablet, follow these steps to clear cookies on your device's default browser.
Open our web browser and tap the three lines in the bottom right corner.
Select Settings and go to Privacy and Security.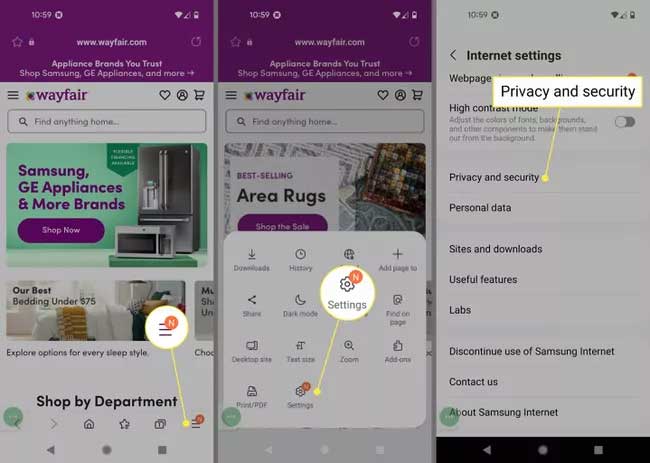 Select Delete browsing data
Check the Cookies and site data box and hit Delete data.
Hit Delete to initiate.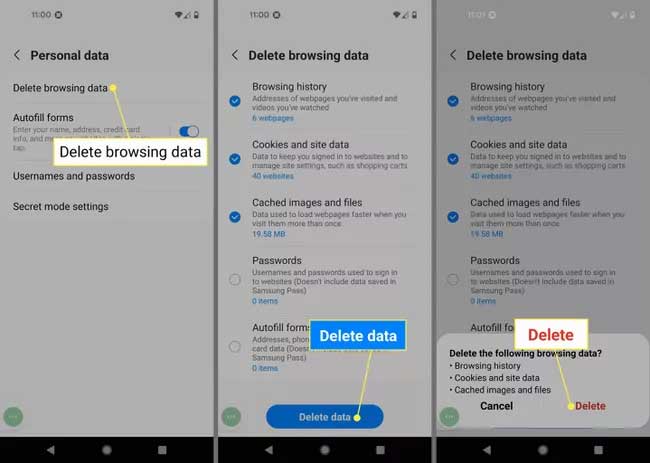 Clear Cookies on Opera Browser
Opera for Android is another popular browser app that collects cookies from sites. Follow these steps o clear cookies on your Opera browser.
Open your Opera browser and tap on the Profile icon
Tap the 'Gear' icon to open the Settings menu.
Tap Privacy.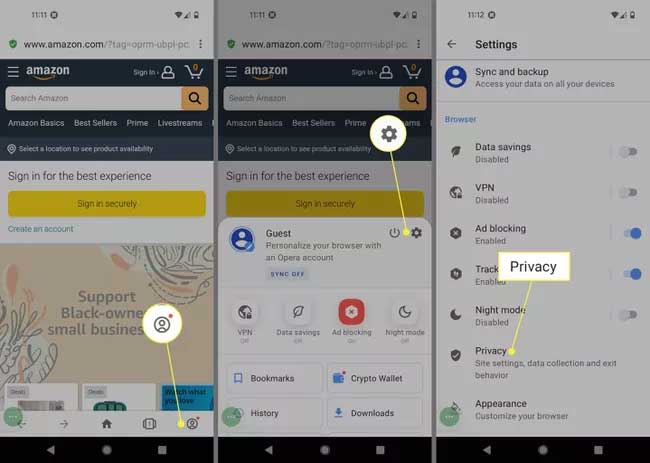 Select Clear data.
Check the Cookies and site data box and hit Clear data.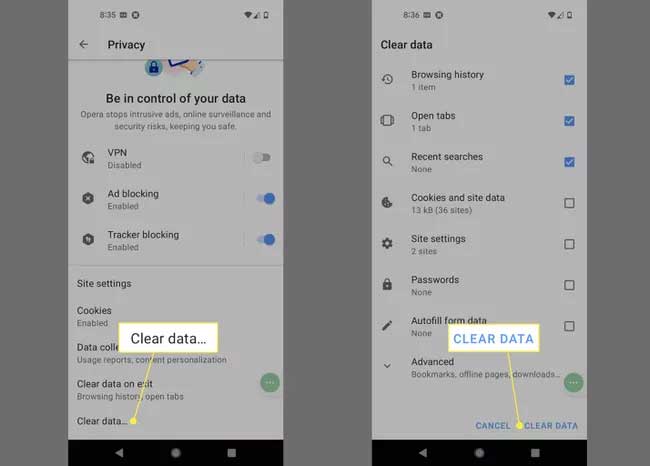 When browsing, some web pages will ask you to accept all cookies. A recent study done by NordVPN showed that most people blindly accept all cookies when prompted by different web pages. Less than 8% exercised their rights to decline the prompt.
You do not need weeb cookies to browse pages.
Although web cookies are completely harmless, not all websites properly manage user cookies which put you at risk.
In a nutshell, application cache and cookies aim to smoothen the user experience. These applications store the information to reduce redundancies and improve load times. However, a build-up of too many files on your device storage will ultimately slow down your device. That is why most devices have the option of clearing cache and cookies. Although the files are harmless, mishandling on the website owner's side puts you at risk. You do not have to accept all cookies when prompted. They are only to personalize the website pages to suit your preference.
References:
As an Amazon Associate I earn from qualifying purchases. Learn more.