Samsung offers a variety of tablets and smartphones that covers almost every user's needs and budget. Whether we talk about a powerful productive device or an entertainment buddy, you can find a suitable device for yourself.
Samsung offers a Kid Mode for children, which comes with parental control and lots of safety features. You don't have to worry about weird stuff your kid might see on the internet; it is a full-proof solution. We will talk about how to turn on kid mode on Samsung tablets and what are its crucial features.
How to Enable Kids Mode on a Samsung Tablet

Before we talk about how to turn on kid safety mode on your Samsung device, let's first discuss what features it offers.
Prevent Accessing Unwanted Apps
With the Kids mode feature, you can select which apps your children can access. It's quite a helpful tool to keep your children away from apps that can potentially exhibit unwanted content. This mode will ask you to set up a pin that will be needed when exiting the Kids Mode.
Limit the App Usage Access
Some games or apps you don't want that your children should use more than a particular time; it is possible with Kids Mode. It will also show you how much time your children are spending on a specific app or game.
Learning With Fun
Samsung has designed adorable characters such as Lisa, Cooki, Bobby, and Crocro. These characters combined with some cool games and activities will help your children to develop a basic foundation for block coding.
For instance, Bobby's Canvas app allows your children to draw pictures and unleash their raw creativity. On the other hand, in the Crocro's Friends Village app, your children can transform Crocro into a doctor or a police officer, put different accessories to dress up Crocro, and much more.
Altogether, there are lots of language learning/math apps and games in the Kids Mode that and teach and entertain your child in a safe and engaging way.
Now let's talk about how to enable Kids Mode on Samsung Tablet?
How to Turn on Kid Mode on Samsung Tablet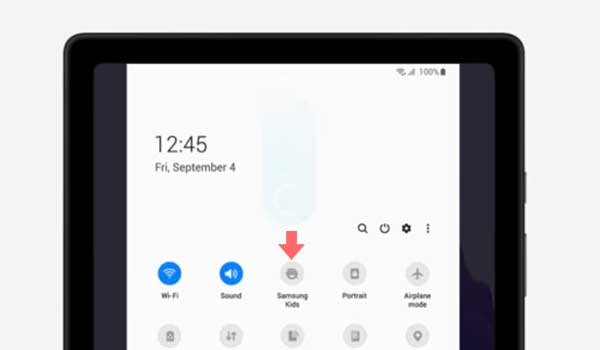 If you have a Samsung tablet with an Android 9.0 or higher version, you can directly access the Kids mode from the Quick Panel. Now jump to step 2.
On the other hand, if you have an Android 8.0 or lower tablet that you have to download it from the galaxy store manually.
Step 1 – Open the Samsung Galaxy Store and search for "Kids Mode", and click on install.
Once the app is downloaded you can move to step 2.
Step 2 – When you open the Kids Mode app, it will ask you to enter your PIN which will be needed every time when you want to make some changes to parental control or crucial settings.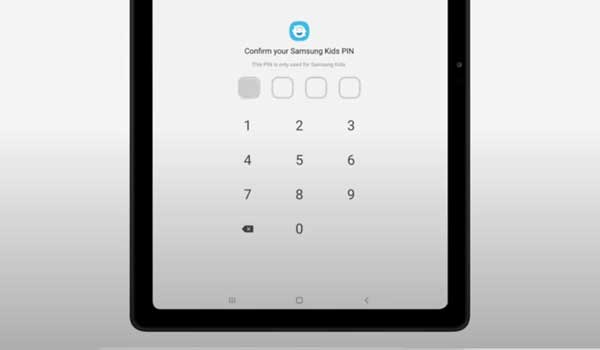 Step 3 – Now you can create your children's profile on the next screen by entering their names, ages, and photos.
Step 4 – After completing these steps, you can now select the apps and contacts that you want to allow your children. Don't worry if you don't select any apps, there are lots of apps and games to download under the Kids mode.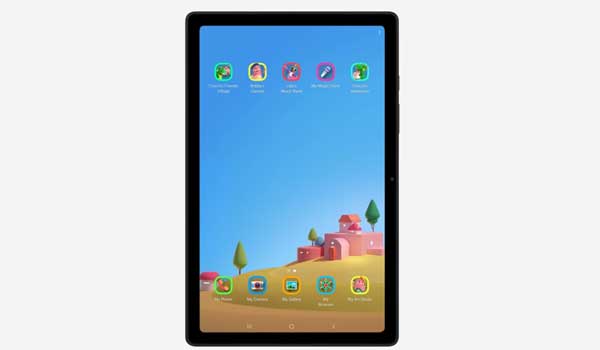 Here are some apps that are already available under Kids Mode.
My Phone – You can select any contact that you want to allow to dial by your kids.
My Camera – Fun camera with funny stickers and filters designed for kids.
My Gallery – Children will only see the photos and videos that they have taken.
My Browser – You can set up which website your children can access, you can add one by one website.
My Voice – Children can record and listen to their voices. There are a lot of fun voices and filters available for fun and excitement.
My Art Studio – You child can draw pictures, turn them into AR stickers and do much more.
Kids Store – Under Kids mode, you can download several funny and educational games and apps for your children. This mode only allows accessing the Kid mode of Galaxy Store.
Samsung Kids mode is a helpful tool to keep your children safe in this dreaded internet world. You can define every permission that your child can access on a tablet or smartphone.
If you still have any questions regarding, how to enable or configure Samsung Kids mode, comment below, we will get back to you shortly.
As an Amazon Associate I earn from qualifying purchases. Learn more.